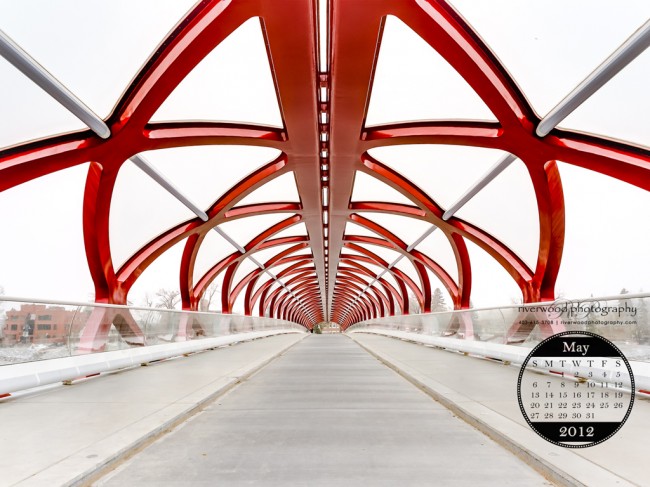 The Peace Bridge in Calgary
Free Desktop Wallpaper
As a little bonus for my friends and followers every month I provide a free image for use as your desktop background wallpaper on your computer. Each beautiful photo is a picture that I have created and it always includes a calendar overlay for the month. I know that I'm always looking for a calendar and having one on my desktop is very convenient!

This months wallpaper image features an abstract image of the beautiful new pedestrian bridge over the Bow River in Calgary. Although officially known as the "Peace Bridge" it has been anything but peaceful. Most Calgarians fall into two camps in discussions about this bridge; they either love the bridge for it's unique beauty or they hate it because it the project to build it cost $25 million that could have been spent in many other ways.
Personally I'm very interested in the photography opportunities that the unique bridge presents (it looks amazing at night!), but rather disturbed that it doesn't actually go anywhere… There is no access to the bridge from the North side of Memorial Drive (on the North side of the river). Therefore anyone using the bridge has to walk (or cycle) along the existing pathway to access points at one of the other bridges to the East or West of the new bridge. It doesn't make much sense.
But it is very beautiful!
Download
To install the image as your desktop background, simply click on the link below that corresponds to the file resolution you would like to use. When the larger image appears in your browser window right-click on the picture and select "Set as Desktop Background…".
For some browsers (Google Chrome for sure) you may have to choose "Save As…" to copy the image to your desktop first. You can then right-click on the file on your desktop and choose "Set as Desktop Background…".
Desktop:
800×600 | 1024×768 | 1280×720 | 1280×800 | 1400×1050 | 1440×900
1600×1200 | 1920×1080 | 1920×1200 | 2560×1440 | 2560×1600 | 3360×1050
Tablet (Apple iPad, Blackberry Playbook, Samsung Galaxy Tab):
Horizontal | Vertical
Apple iPhone 2, 3, or 3Gs:
Horizontal | Vertical
Apple iPhone 4 or 4s, and most Android Phones:
Horizontal | Vertical
NEW – Facebook:
Facebook Timeline Cover