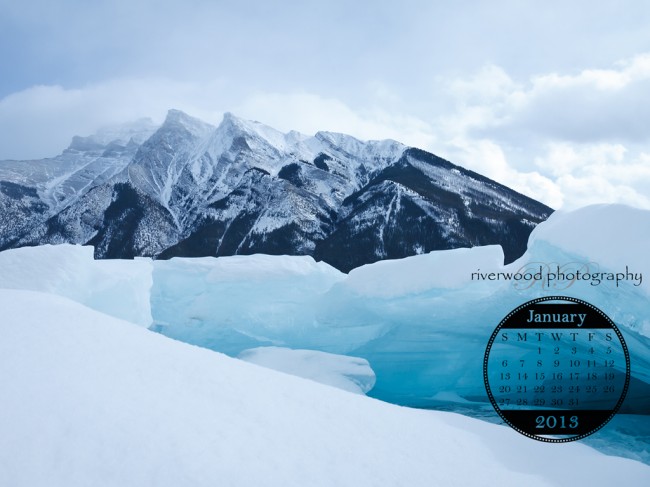 Blue Ice on Lake Minnewanka
Free Desktop Wallpaper
As a little bonus for my friends and followers every month I provide a free image for use as your desktop background wallpaper on your computer. Each beautiful photo is a picture that I have created and it always includes a calendar overlay for the month. I know that I'm always looking for a calendar and having one on my desktop is very convenient!

The wallpaper image for this month is from a family trip into the mountains last spring to go snowshoeing at Lake Minnewanka. As it turned out there was hardly enough snow to need the snowshoes, but we had a great day anyway. We explored the trails along the west side of the lake all the way to the bridge across the gorge. On the way out we wandered out onto the ice to have a good look at the massive ice heaves on the lake itself. The beautiful blue ice was incredible to see and it made for some great landscape photography.
Download
To install the image as your desktop background, simply click on the link below that corresponds to the file resolution you would like to use. When the larger image appears in your browser window right-click on the picture and select "Set as Desktop Background…".
For some browsers (Google Chrome for sure) you may have to choose "Save As…" to copy the image to your desktop first. You can then right-click on the file on your desktop and choose "Set as Desktop Background…".
Desktop:
800×600 | 1024×768 | 1280×720 | 1280×800 | 1400×1050 | 1440×900
1600×1200 | 1920×1080 | 1920×1200 | 2560×1440 | 2560×1600 | 3360×1050
Tablet (Apple iPad, Blackberry Playbook, Samsung Galaxy Tab):
Horizontal | Vertical
Apple iPhone 2, 3, or 3Gs:
Horizontal | Vertical
Apple iPhone 4 or 4s, and most Android Phones:
Horizontal | Vertical
Facebook Timeline:
Facebook Timeline Cover