I specialize in creating wall art for your home. Nothing could make me happier than sending you home with a framed print or a canvas gallery wrap with your favorite family portrait from your session to proudly display on your wall for all your friends and family to share.
Family portrait sessions are always very flexible and fun, and the goal is always to capture the spirit of each of your family members. Sometimes that means you want a classically posed formal portrait in the studio, while another time it might mean a relaxing walk at the park with your entire family.
These sessions take about an hour and we can do them at my home studio, at a local park, or at another beautiful location of your choice in the Calgary area. We could also set up a special trip out to the mountains or to the prairie if that's where your heart and soul are more at home.
Please download the Portrait and Print Pricing Guide for more information about the packages and pricing details. Packages can be tailored to your specific needs so feel free to contact us to discuss your needs or to book your session.
Feel free to contact us to discuss your needs or to order a custom photography product.
Testimonial - Commercial Photography at BTLC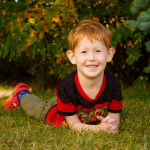 For the 2nd year now, Sean has generously donated his time in support of our program, Behaviour Therapy and Learning Centre (BTLC). It can be difficult to truly capture our children (with Autism and other developmental disabilities) on camera as sometimes their behaviours can interfere; however, Sean's patient, kind and compassionate manner is so incredibly effective. The result is beautiful candid shots of our children that see beyond their disabilities and show off their amazing qualities. Sean, thank you for spending the entire day with us so we could include all our children. And thank you for the quick turn around with proofs and touch ups. I am grateful for our relationship with you.