Please submit the following form if you would like to inquire about a photography session date or if you need some more information about the products and services we offer:
Calgary Photography Studio Location
Please use the following map to find the Riverwood Photography studio (in Riverbend in SE Calgary). The map also lists a bunch of great outdoor locations for photoshoots in Calgary.
Testimonial from Joelle Sheppard - MJP Dance Academy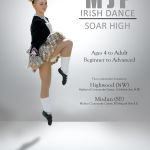 Riverwood Photography has been our studio photographer for our Irish dance school for the past two years and we couldn't be happier.
Sean has a great eye for setting up beautiful shots of our dancers. He is able to capture action shots of our older dancers at the perfect moment and has a knack for bringing out the smiles in our younger dancers in their posed shots.
Sean is able to shoot many dancers in a short time without sacrificing quality. He is easy to work with and is able to put all the dancers at ease; even the camera shy ones. He is always willing to put in extra time to get the shot that I am interested in, even if he has the sun shining in his eyes and the wind bowling him over.
The parents in our studio are always happy with the finished result from Riverwood photography. They love the variety of options there are available to order and how professional the finished photo packages are.
I would highly recommend Riverwood photography to anyone that is looking for a professional, efficient experience from start to finish.