Photography Backdrop Samples
This is a gallery of images showing some of the backdrops that we have available for your portrait session, photobooth, or other event.
If you don't see a background that you want to use here then please feel free to contact us to discuss your needs. There are often options to rent, borrow, or buy the background that you need, or we could plan your photoshoot at a different location that has a better natural backdrop that you like.
Testimonial from Pet Portrait Client Judy Lach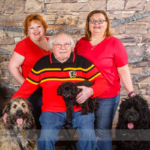 "Attended a very busy Calgary DogFest with the intention of having updated family photos with the dogs. The group involved a senior, 2 adults, 1 mini dog and 2 giant dogs. Sean gave us some direction on placement and cues and it was so much fun. In the short session time we had many incredible poses done. In a couple of days we had the finished images ............ incredible, I'm so happy with them. Sean is a great talent to capture 6 moving targets and produce such candid images to treasure those moments in life. Catching a dog winking, OMG Ahhhhh. Thank you so much, I will highly recommend and use your service again."