Riverwood Photography is a Calgary portrait and commercial photography studio.

We specialize in creating headshots for small business owners and corporate executives, and beautiful portraits for families.

We work on-location or in-studio and we provide photography services to our clients when, where, and how they need it.

Please contact Sean at 403-615-3708 if you need information about a custom photography service.
Testimonial from Jo-Anne Teed - Pet Portrait Client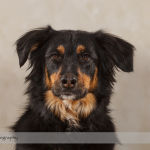 My first experience with Riverwood Photography was at their Dog Day photo shoot organized as a fundraiser for the Canadian Cancer Society along with a great opportunity to get a photo or more of your favourite Pooch! Sean and his team were well organized amid the chaos of a stream of pet owners and pets of all sizes. With two dogs in tow - an old one and a young one - and both moving targets -Sean managed to get some great shots of both our dogs individually and together. I look forward to having him do a family portrait for us and new head shots for the office. We will at least sit still!