The Studio Portrait Session is very popular for families looking for more traditional or formal images. These sessions are typically done in my home studio where I have a complete studio installation, including professional lighting and backdrops, chairs, stools, props, and other equipment that I can use to help create the images you wnat to display in your home. If you prefer I can bring a portable studio to set up in your home, garage, or other preferred location.
Please download the Portrait and Print Pricing Guide for more information about the packages and pricing details. Packages can be tailored to your specific needs so feel free to contact us to discuss your needs or to book your session.
Testimonial from Business Portrait Client Brad Celmainis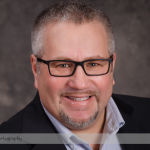 "As long as I can remember, I have loved photography but have never enjoyed having my own photo taken, whether it be by a professional or otherwise. It usually shows in the finished product as my expression caught on camera is often forced, and unnatural in my view.
I really enjoyed my shoot with Sean. We knew each other before the shoot which helped put me at ease. I sense his approach would work on those who he has not met before as well.
My shoot with Sean was fun. I had a lot of great shots to choose from. It was difficult to choose the final product.
I network a lot in the Calgary marketplace and the comment I get often is, "you look just like your photo". I use my headshot on my website social media platforms. "Instant recognition" is important to me.
I am a small business owner who relies heavily on organic networking and marketing methods. Face to face contact is key. Having people recognize me has started many a great conversation. This has led to increased business and referral opportunities.
I am a strong believer that a great headshot is an important part of a personal brand. I recommend Sean Phillips and Riverwood Photography wholeheartedly to provide great service at a great price."