Riverwood Photography Gift Certificates
Few gifts are more appreciated than portraits. Gift Certificates provide a simple way for you to give your friends and loved ones a portrait session or to help them get some beautiful enlargements & reprints from a previous session. This is a wonderful gift that will ensure they remember the special moments in their lives for years to come.
Gift certificates can be created for any value or for a specific package. They can be applied to session fees or to merchandise, and they can be combined with any other gift certificates or promotions that we may run from time to time.
Riverwood Photography Gift Certificates never expire!
Gift Certificates make great last minute gifts and are available for pickup, or if you prefer then we can put them in the mail to you or to your recipient within one business day.
Feel free to contact us if you have questions or if you want to customize your gift beyond the simple options below. We would be more than happy to help you create a special offer. Depending on your request these custom certificates may require a little more time to prepare.
Gift Certificate Order Form
Note – a la carte gift certificates are really great presents for your family members that have already been previous clients. They can be used toward a wide variety of print products or digital upgrades.
For clients that are new to Riverwood Photography you should consider that while the base fee for our family portrait sessions is only $149, that fee includes only a few small prints. The recipient will have the option to purchase additional prints, specialty products, and digital files following the session. I usually recommend spending a little more so that a more significant finished product (eg. some wall art or a few digital files) is also included with your gift…
Thank you for choosing Riverwood Photography!
P.S.
: Do you want to stay informed of new promotions? Please sign up for the Riverwood Photography News mailing list. Newsletters will go out approximately once a month.
Testimonial from Joelle Sheppard - MJP Dance Academy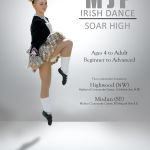 Riverwood Photography has been our studio photographer for our Irish dance school for the past two years and we couldn't be happier.
Sean has a great eye for setting up beautiful shots of our dancers. He is able to capture action shots of our older dancers at the perfect moment and has a knack for bringing out the smiles in our younger dancers in their posed shots.
Sean is able to shoot many dancers in a short time without sacrificing quality. He is easy to work with and is able to put all the dancers at ease; even the camera shy ones. He is always willing to put in extra time to get the shot that I am interested in, even if he has the sun shining in his eyes and the wind bowling him over.
The parents in our studio are always happy with the finished result from Riverwood photography. They love the variety of options there are available to order and how professional the finished photo packages are.
I would highly recommend Riverwood photography to anyone that is looking for a professional, efficient experience from start to finish.