Family Adventure Sessions
Candid Portraits of you and your family doing the things that you love to do together.
I have plenty of experience doing a wide range of sports and outdoor activities and I love to photograph families playing together! You tell me what you love to do and we can work together to plan an adventure!
These sessions include up to 4 hours of coverage and typically result in 50+ usable images per hour. Some example adventure activities include mountain biking, hiking, snowshoeing, skiing, rock climbing, horseback riding, and fishing. This is just a starting point though and I'm open to just about anything else that you love to do…
Please download the Portrait and Print Pricing Guide for more information about the packages and pricing details. Packages can be tailored to your specific needs so feel free to contact us to discuss your needs or to book your session.
Feel free to contact us to discuss your needs or to order a custom photography product.
Testimonial from Pet Portrait Client Judy Lach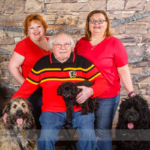 "Attended a very busy Calgary DogFest with the intention of having updated family photos with the dogs. The group involved a senior, 2 adults, 1 mini dog and 2 giant dogs. Sean gave us some direction on placement and cues and it was so much fun. In the short session time we had many incredible poses done. In a couple of days we had the finished images ............ incredible, I'm so happy with them. Sean is a great talent to capture 6 moving targets and produce such candid images to treasure those moments in life. Catching a dog winking, OMG Ahhhhh. Thank you so much, I will highly recommend and use your service again."