The 2016 Aventador LP750-4 Superveloce on display at Lamborghini Calgary
Special Event Photography for the Muse Group
"Wondering if you are available for a shoot for an event we are doing for Lamborghini July 2 6-9pm. Grand opening of the dealership."
Um, yes. I can do that!
After doing this job for a few years I've had the great fortune to work at a wide variety of events and it's not very often that an inquiry comes in for something that's really different and exciting.
This was one of those times! Thanks so much to the Muse Group for inviting us to participate!
Lamborghini Calgary Grand Opening
Although Automobili Lamborghini is expanding quickly into Canada the new Calgary store is only the 4th location in Canada and the grand opening was a very exciting event. It was attended by senior representatives of the company, including President and CEO Stephan Winkelmann.
The shot list for the event included both photos of the guests at a step & repeat backdrop as they arrived and the typical candid coverage of the attendees and VIP's as they mixed and mingled during the party. It also included photos of the speeches and presentations, as well as a few specific photos that the dealership required for submission to news outlets and magazines around the country.
Here are some screenshots from just a few of the articles that appeared in media following the event: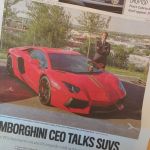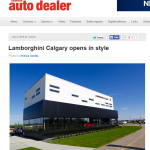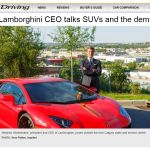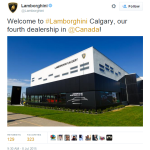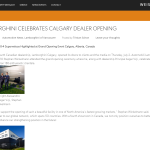 Book an Event Photography for your Corporate Party or Event
If you have an upcoming event that you need photography coverage at we can help. We provide photobooths and candid event photography coverage for almost any occasion, including corporate Christmas parties, Wedding receptions, Bar and Bat Mitzvahs, Calgary Stampede events, and many other private parties where you need entertainment for your guests.
We can also offer team and individual portraits for your golf tournament and a wide range of other services for events that require on-site printing.
Book a Photobooth for your upcoming event today!