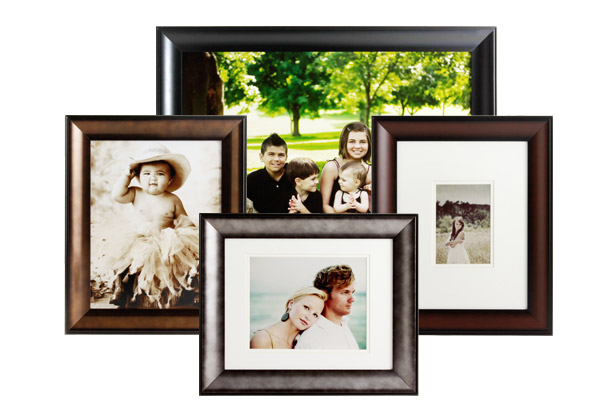 Framed Prints
I have previously mentioned some of the framing options that I have available through an arrangement with Time Frames Custom Picture Framing. These frames are still available and I highly recommend them to all my portrait clients. Please ask if you would like to see samples of the mouldings or the mats. Or better yet call Karen and make an appointment. She can help you choose a custom design that will go perfect with your print!
For those of you that have asked about additional ready-to-order choices I have recently added another line of really great frames. These come fully assembled with acrylic (aka plexiglass) and hanging hardware, are available in a variety of sizes and colors, and include your choice of mat color.
Sizes and Options
You can choose from 2" Black, Cherry, Bronze and Iron mouldings, 1-1/4" White and Onyx mouldings, and 2-3/4" Toffee Crunch or Rum Raisin mouldings.
All frames are available in 11×14, 10×20 (Panoramic), 12×18, 16×16, 16×20, and 20×24 sizes.
There are seven mat color options, including Double White, Black, Blue, Brown, Cream, Dark Green, and Light Green. All mats are acid free and archival. Mats are available with a variety of opening sizes for each frame size. Multi-opening mats are also available upon request.
I have samples of all of the mouldings and mats available if you would like to see or feel them!
Availability
Framed prints are available for select galleries in the client area of the website now, and will gradually be rolled out to the remaining galleries shortly. If you do not see them in your gallery please ask about pricing and I would be happy to help you out.
As with all print orders, orders for framed prints generally take 1-2 weeks before they are ready for pickup or delivery. Rush orders can be accommodated for a nominal fee.
Sample Images