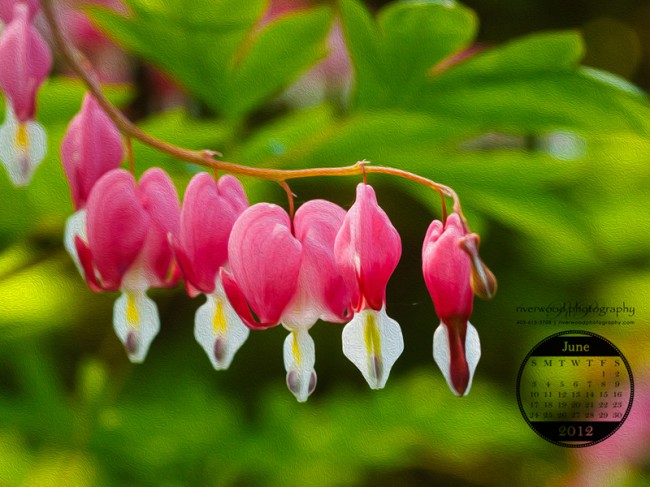 Bleeding Hearts on Canvas in Oil
Free Desktop Wallpaper
As a little bonus for my friends and followers every month I provide a free image for use as your desktop background wallpaper on your computer. Each beautiful photo is a picture that I have created and it always includes a calendar overlay for the month. I know that I'm always looking for a calendar and having one on my desktop is very convenient!

This months wallpaper image features a photo of some bleeding heart flowers that I made to look like an oil painting on canvas. This is a fun technique that I've only just started to play with but I'm really happy with the results. It actually looks amazing when printed onto real canvas and I plan to use it more in the future. It looks particularly good with subjects that have lots of texture, such as a furry animal or an outdoor scene. I really liked how it looked with this flower image and I'm happy to share it with you as this months free calendar.
Download
To install the image as your desktop background, simply click on the link below that corresponds to the file resolution you would like to use. When the larger image appears in your browser window right-click on the picture and select "Set as Desktop Background…".
For some browsers (Google Chrome for sure) you may have to choose "Save As…" to copy the image to your desktop first. You can then right-click on the file on your desktop and choose "Set as Desktop Background…".
Desktop:
800×600 | 1024×768 | 1280×720 | 1280×800 | 1400×1050 | 1440×900
1600×1200 | 1920×1080 | 1920×1200 | 2560×1440 | 2560×1600 | 3360×1050
Tablet (Apple iPad, Blackberry Playbook, Samsung Galaxy Tab):
Horizontal | Vertical
Apple iPhone 2, 3, or 3Gs:
Horizontal | Vertical
Apple iPhone 4 or 4s, and most Android Phones:
Horizontal | Vertical
Facebook Timeline:
Facebook Timeline Cover