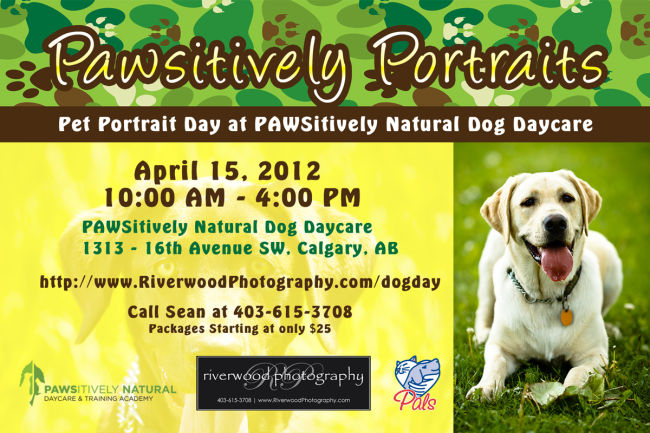 Dog Portrait Day 2012 at Pawsitively Natural
There are Only a Few Sessions Left
Interest has been fantastic for our upcoming Calgary Dog Day Pet Portrait event on April 15th and there are only a few sessions left. If you would like to register you still can! Please use the following direct link to access the schedule:

Online Registration is available on our scheduling page.
Sessions have been filling steadily and I expect that we will completely fill up by the weekend.
Remember that this is not only a great opportunity to get some beautiful portraits of your pet, but also a fundraiser for a wonderful pet charity called PALS.
PALS is the largest organization of its kind in North America. Over 450 volunteers and their four-legged pals (purebreds as well as crossbreeds) form 75 teams of up to 10 people. On a pre-set schedule, these teams visit nearly 50 facilities including hospitals, nursing homes, a correctional centre, day programs, group homes, and other care facilities. Each team is directed by a team leader and a facility staff member. Visits are up to one and a half hours long and can include both group visits and one-on-one visits.
Feel free to call me at 403-615-3708 if you have any questions about the event!