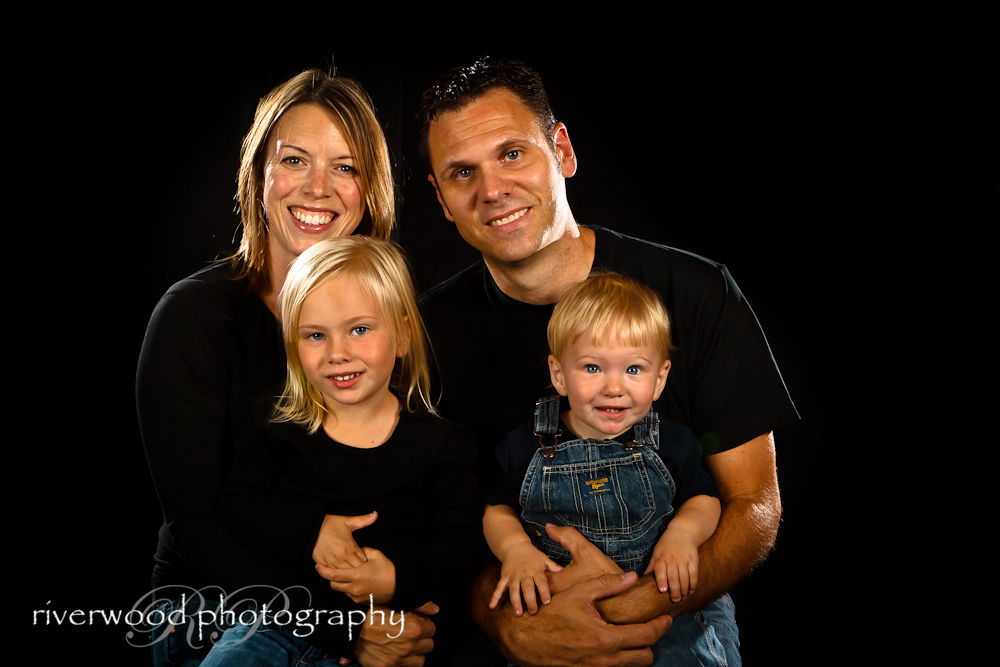 I was honored to be invited to create some family and individual portraits for some old friends. They asked me for studio style portraits of their youngest child to match some images they already had of their older child, and also some indoor and outdoor portraits of the entire family. I have a portable studio (including backdrops and lighting gear) that I can set up anywhere, so we turned their living room into a photography studio! I made portraits of both of the children individually and with their parents, and then the whole family together against a black background. The black background is very dramatic images and I really love black and white images created against it.
After finishing up inside we went outside to take advantage of a beautiful fall day in Calgary. They live in a prime location adjacent to a very scenic "green" space. I have to put green in quotes because, although the session was completed in early September, the fall colors had already fully arrived. The weather was fantastic and the scenery was perfect to make some lovely fall portraits of the family! I love doing this kind of session where there's lots of variety and the images are all very different. It was a very fun session and it was great hang out with my friends!
On a related note… Fast forward only a couple of weeks later to today and the fall colors are already peaking. If you're thinking about getting some fall portraits made this year I would really recommend that you book your session soon. The nice weather is supposed to hold for a little while longer, but the leaves will only stay on the trees for so long, and we're bound to have another cold snap soon. Now is the time!
Client access to the password protected galleries from this session is now available in the client area.
Here are a few more images from this session: