aka The Fine Print
No hidden fees: The full amount of the purchased gift certificate is applied to photography services or products from Riverwood Photography. There are no hidden fees, no activation fees, no setup fees, and no maintenance or redemption fees.
Expiration: Gift certificates never expire.
Cancellation: Gift certificates are fully refundable for 10 days after purchase and can be refunded using the same method by which they were purchased. After 30 days, gift certificates are redeemable for products and services only.
Replacement: If you lose or misplace your gift certificate, please contact Riverwood Photography. Gift Certificates can be replaced if the original has not been used; however, the original certificate will become null and void.
Redemption and Value: Gift certificates are issued and redeemed in Canadian Dollars. If there is a balance left on the gift certificate after services or products are provided by Riverwood Photography, the balance amount is non-refundable but can be used for future services or products. Gift certificates cannot be redeemed for cash by the recipient.
Merchant Rights: Riverwood Photography reserves the right to refuse a gift certificate as payment for services if there is reasonable doubt as to the gift certificate's authenticity.
Go back to Gift Certificates
Testimonial from Pet Portrait Client Judy Lach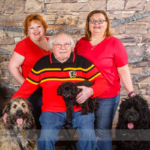 "Attended a very busy Calgary DogFest with the intention of having updated family photos with the dogs. The group involved a senior, 2 adults, 1 mini dog and 2 giant dogs. Sean gave us some direction on placement and cues and it was so much fun. In the short session time we had many incredible poses done. In a couple of days we had the finished images ............ incredible, I'm so happy with them. Sean is a great talent to capture 6 moving targets and produce such candid images to treasure those moments in life. Catching a dog winking, OMG Ahhhhh. Thank you so much, I will highly recommend and use your service again."