Our Gift Certificates are on sale from December 7th to December 15th. One week only. This is the first sale we've ever had on gift certificates and you don't want to miss this opportunity!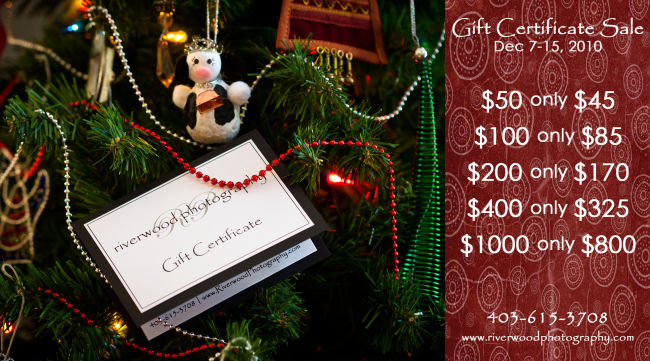 Few gifts are more appreciated than portraits. Gift Certificates provide a simple way for you to give your friends and loved ones (or even yourself!) a portrait session or to help them get some beautiful enlargements & reprints from a previous session. This is a wonderful gift that will ensure they remember the special moments in their lives for years to come.
Do you know someone who is thinking of having a family portrait? Maybe you know someone who is having a baby? Give them the gift of photography!
Gift certificates can be created for any value or for a specific package. They can be applied to session fees or to merchandise, and they can be combined with any other gift certificates or promotions that we may run from time to time.
Riverwood Photography Gift Certificates never expire!
Gift Certificates make great last minute gifts and are available for pickup, or if you prefer then we can put them in the mail to you or to your recipient within one business day.
Gift Certificate SALE Order Form
Thank you for choosing Riverwood Photography!
P.S.
: Do you want to stay informed of new promotions? Please sign up for the Riverwood Photography News mailing list. Newsletters will go out approximately once a month.