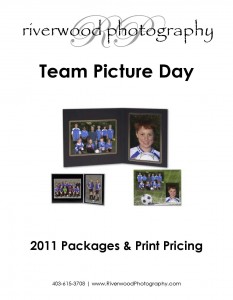 I know it seems like summer and summer sports are still a long way off, but it's never too early to start planning your sports activities. Registration has already come and gone for many Calgary summer sports leagues, and the rest of them can't be too far off. So with that in mind I wanted to provide some information about the Picture Day packages that I can offer for Sports Teams and Clubs.
If you are a volunteer or an administrator with a Team or Club, or even a service organization that might be interested in organizing a Picture Day, I would appreciate it if you would please have a close look our guide for standard Picture Day Packages & Pricing for Teams & Clubs.
Whether you are looking for individual portraits for each member of your club, or if you just want a great group photo, I would be happy to work with you to tailor a package that will meet your needs. Please feel free to contact me if you don't see exactly what you need here.
I play and participate in lots of sports myself, and my kids are very active too. So I have a great feel for how to get the best looks out of the players and participants. I'm also happy to help with the organization of the Picture Day which can make your life easier.
Examples:
Sports teams and leagues that would be great contacts for me include:
Soccer
Baseball
Football
Hockey
Ultimate
Ringette
Volleyball
Basketball
Clubs that I would love to work with include
Sparks, Brownies, or Girl Guides
Beavers, Cubs, or Boy Scouts
Motorcycle Clubs
Running Clubs
Many More…
or any other club