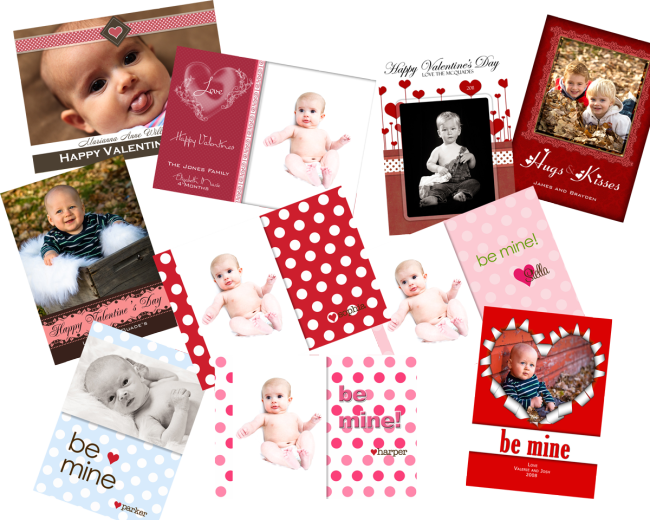 Custom Designed Photo Greeting Cards
I've had a couple of inquiries recently from clients wishing to have custom cards made for Valentines Day. Although I have several beautiful templates available for Valentines Day I've never actually advertised them before. So this is just a quick post to show off a few of the designs that I have available. All of these designs are completely customizable; I can quickly change the colors, the fonts, and of course the text. Alternatively if you have a specific idea for a card that you would like to send out I can probably help you with that too.
These great cards are a wonderful way to show off your images from a recent Baby or Children's photography session, or even for Family or Engagement photos.
Note that I also have card designs available for all of the major holidays (Christmas, Easter, Thanksgiving, etc.), as well as for those special days in our lives like Birth Announcements and Birthdays. If you'd like to see some other greeting card designs for a particular event please let me know and I'll do what I can to help you out.
One last thing… Timing is getting pretty tight for delivery in time for Valentines Day. I can still get them done for you if you get your order in by Tuesday, February 8th. I also have a limited number of times available between now and then if you would like to book a photography session. Please call me at 403-615-3708 if you'd like to book a session or if you want to order some cards using images from a past session.
Pricing and Delivery Times
Photo greeting cards are available for purchase using images from any photography session.
Flat cards are available in sets of 10 for $40, 25 for $75, or 50 for $125. Typical delivery is less than 1 week. Folded cards come in sets of 25 cards for $125 or 50 for $200. Please allow extra time for delivery of press products. Minimum delivery is 2 weeks, but they may take longer at peak periods.
NOTE – pricing is current as of the date of this writing. Please be sure to check our pricing guides (available from the Prices page) for current information.