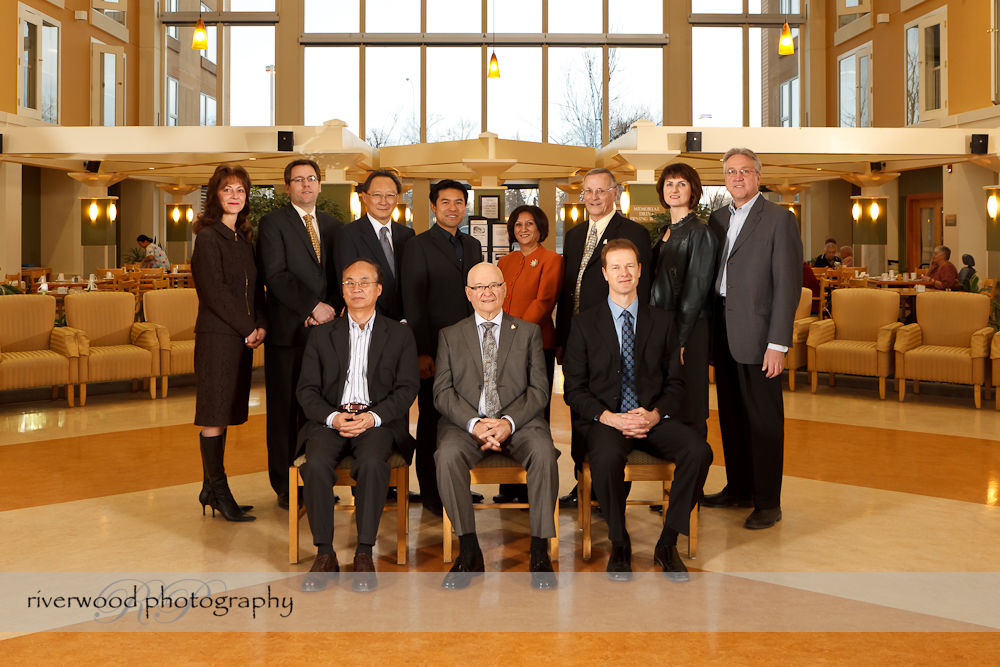 I had a recent corporate photography session with the Board of Directors and several senior employees of MCF Housing for Seniors. MCF is a local non-profit organization that provides "affordable, safe and secure housing options for Calgary's seniors". The photo session was held in one of the facilities that the organization operates. They wanted a group portrait that included only the volunteer members of their Board of Directors, as well as another group shot including the Directors and the Senior Employees in attendance. They also needed business head shots for several people as well.
I pre-scouted the location to make sure that it would be suitable for the images that I was being asked to provide. As soon as I walked into the lodge I knew that I wanted to do the shoot right in the middle of the main lobby. The building has a rather grand entrance that opens onto a magnificent central lobby with vaulted ceilings and a wall of windows on either end. The residence wings are arrayed to each side of the lobby and their are balconies at each end of each floor that open onto the lobby.
The residents of the lodge use the lobby area for meals, social gatherings, and special events. There is a large open area in the center of the room that I thought would be perfect for the group shots. I knew that some of the residents would be eating their breakfast in the background of the scene, but to my mind that added to the images rather than detracting. I felt that it would highlight the softer side of the organization (and it's reason for being) while also reducing the corporate feeling automatically associated with Boards of Directors.
It was lots of fun to set up for this shoot. Because of the choice of the central location for the photo shoot I was right in the middle of the daily lives of the residents as they went about their morning routines. I had quite a lot of photography lighting gear with me and I made quite a scene as I setup and tested all of the lights. Many of the residents wanted to know what was going on! I'm sure I had at least a dozen of them ask me directly, while many others asked the staff members in the area as well. By the time we were ready for the actual shoot we had quite an audience. There were plenty of residents seated in the chairs placed around the room and quite a few more were standing on the balconies on the floors above us to watch. I'm sure it was quite a change to their normal routines!
Here are a few of my favorite images from the shoot.