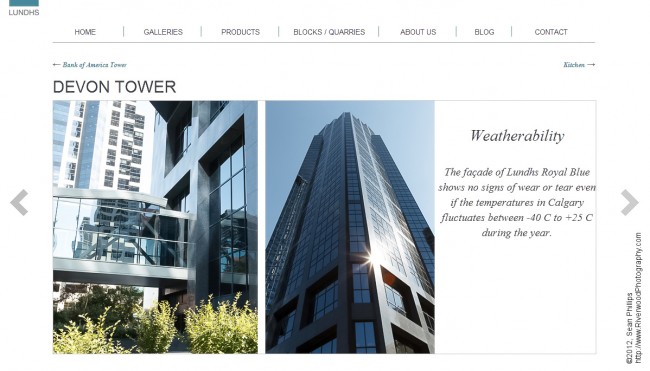 Architectural Images in Use
Architectural Photography at Devon Place in Calgary
It's always fun to see the images that I've created used in interesting places. A series of images from a recent architectural photography session at Devon Place in downtown Calgary (formerly Canterra Tower) were recently used by Lundhs AS of Norway for promotional and marketing use. These images were created to highlight the stonework of the interior and exterior floors and walls of the building. The granite and other stone materials were provided by Lundhs when the building was originally built in 1988. It is beautiful inside and out and the architecture of the building is stunning.
Commercial Stock Photography
To see additional images from this project please visit my commercial stock photography gallery at stock.riverwoodphotography.com
I am available for commissioned work in Calgary and beyond. Please contact Sean at 403-615-3708 for more information or to receive an estimate for your project.