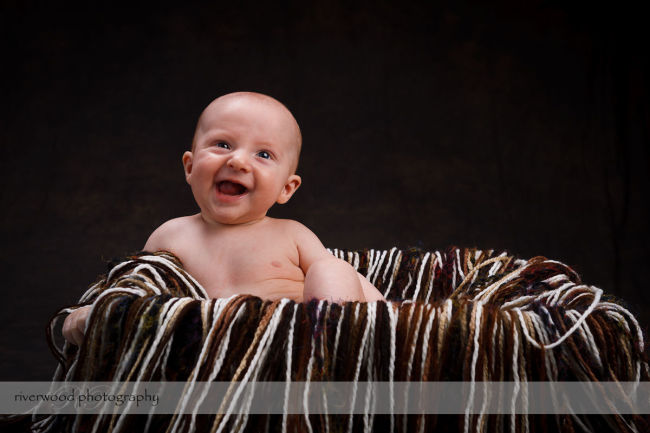 Baby Alex at 4 Months
I had to post this wonderful image of baby Alex with a huge smile on his face. Alex was just a little over 4 months when he came in to my studio for his second portrait session. His first photography session was a newborn session when he was only 5 days old. The change since then is amazing! He is so happy and smiley all the time and he's almost sitting up, he's rolling over, and he's absorbing everything around him.
I had a number of new props and outfits that I wanted to try out, while also capturing the milestones for a 4 month old baby (mainly smiling and pushing himself up off his tummy). Unfortunately the outfits I had were a little small for Alex, but we did get some great shots and captured the milestones that I wanted to see. It was a very fun session and I can't wait to see him again in a few months!
Baby's First Year Program
Your Baby will change so much and so quickly in the first year. It is really important to capture those changes several times throughout the year so you can enjoy the memories forever. I highly recommend our Baby's First Year program as the easiest and most affordable way to record each of those milestones in a timeless keepsake that you can proudly display in your home.
Newborn sessions are best done in the range of 5-10 days old, but it's never too late they can be complete at any age. The other Baby's First Year sessions should be done around 4, 8 and 12 months to ensure that we catch the important milestones throughout the year.
Please download the Baby's First Year Pricing Guide for more information about the packages and pricing details for Maternity or Newborn Sessions, or for the Baby's First Year Program.
Feel free to contact Sean at 403-615-3708 to learn more or to book a session.